16886 Highway 6 is located between Bishop and Benton, in a neighborhood called Hammil Valley. This home is off the beaten path, with easy highway access.
Property Details for 16886 Highway 6, Bishop California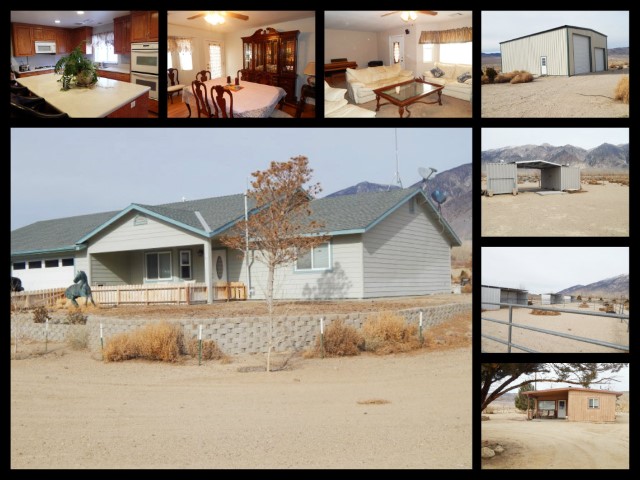 This is on 202.7 acres in the beautiful Falls Creek Ranch subdivision has lots of potential. The main house was built in 2008 and offers 3 bedrooms and 2.5 baths. The open kitchen has manufactured stone counter tops and a large pantry. The master bedroom has a open bathroom with garden tub.
The main house has a 7KW Generac automatic standby generator that is wired directly into the electric panel. Anytime the power is lost to the house, the generator automatically comes on and serves about ½ of the house (all the freezers, refrigerators, booster pump, heating system, TV lights, most of the kitchen and one bedroom.
The 2nd dwelling is great for a mother-in-law unit, rental or ranch hand lodging and is on the north side of the property. The home offers 3 bedrooms 2 bathroom, 1,255 square feet, a separate power panels.
The well is a 420' ag well that are used for the house. The well is powered by solar panels and controllers for the Grundfus DC pump. The pump does 10 to 11 gpm with the water at 170' (static) depth. There are 2 inch lines that are buried 4 feet deep all the way to the house, and fill both 2,500 gallon holding tanks. There is an automatic shut off system that will turn off the well, when the water reaches a certain height in the tanks. Also there is a one horse booster pump to pressurize the system into the house and irrigation for lawns, trees and livestock.
This property has a great shop that is fully insulated. The shop is 30' X 45' X 16' with a 14' and 10' roll up doors and a man door on the side of the building. There is also 10'X15' metal mezzanine racks for off floor storage.
Behind the main house, there are some amazing horse facilities. These include 2 - 20' painted storage containers with reinforced aluminum roof to make a breezeway barn for feed, tack and storage. There are 3- 48'X48' heavy pipe corrals, with 8'X24' 3-sided shelter and automatic water systems. The exercise arenas include a 50' round pen and a 72'X120' open arena.
Hammil Valley is a great area located just outside Bishop California. If you are looking for those great Mountain Views in a spacious area this is the place to live. Your back yard is an outdoorsy persons dream. Hammil Valley is close enough to the town of Bishop for all your shopping and dining experiences and yet gives you the opportunity of being in the wilderness.
Single Family Properties for Sale in Bishop CA – Randi Pritchard, Broker
Eastern Sierra Realty is dedicated to serving the local communities of Bishop, Big Pine, Independence, Chalfant Valley, Aspendell, Swall Meadows, Paradise, and Inyo and Mono Counties. Feel free to call with any Real Estate Needs at (760) 873-4161