363 Academy Avenue is located in Bishop California, in the west side of the Downtown area. This home is two blocks from Main Street and across the street from the Bishop Union High School.
Property Details for 363 Academy Avenue, Bishop California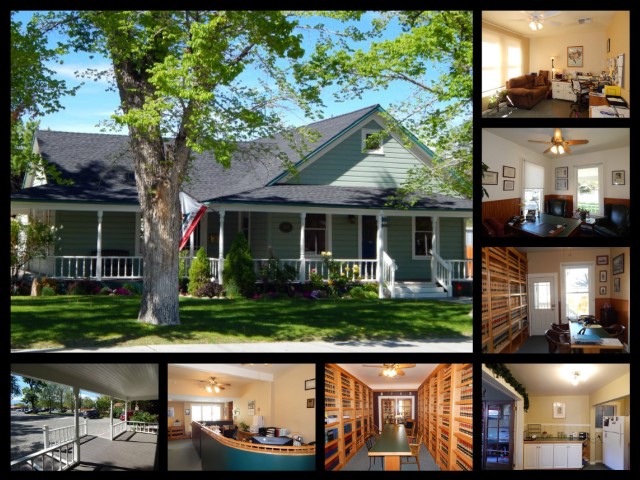 This beautiful building dates back to 1898, with several additions added throughout the years. The current owners purchased the home in 1999. To fit their needs for an office they completely remodeled the building to get everything up to code (particularly the electrical), while preserving the original structure as much as possible.
This building can be used as a large office or separated into multiple businesses, with 5 separate entrances that can be used. Entering through the main entrance you have a large reception area with storage or office supply room attached, which could easily be used as an additional office space. 5 additional rooms currently being used as office spaces, a formal library/conference room and a large break room with additional conference room attached. Located at the rear of the property an additional storage room and exit can be used if desired.
This building is located on a corner lot and sits on 0.25 acres with a covered porch wrapping around the front. Large parking lot that has been scraped and covered with gravel located on the West side of the building with easy access to the street. New sidewalks installed on the Fowler/Academy and Alley sides of the building. The beautifully landscaped yard has been maintained by a yard service and the mature trees are regularly inspected for potential problems and trimmed accordingly.
Please feel free to contact us for more information regarding the history, upgrades and continued maintenance.
The Downtown Bishop area is considered to be within a mile East and West of Hwy 395. This neighborhood is convenient for shopping and is within walking distance to the local theater and restaurants attracting locals and tourist walking around.
Commercial Properties for Sale in Bishop CA- Randi Pritcard. Broker
Eastern Sierra Realty is dedicated to serving the local communities of Bishop, Big Pine, Independence, Chalfant Valley, Aspendell, Swall Meadows, Paradise, and Inyo and Mono Counties. Feel free to call with any Real Estate Needs at (760) 873-4161