145 Elmcrest Drive, is located in the Rolling Green in Big Pine, California. This friendly neighborhood is just outside of Big Pine, and you will often see your neighbors out walking with their families and pets.
Property details for 145 Elmcrest Drive, Big Pine California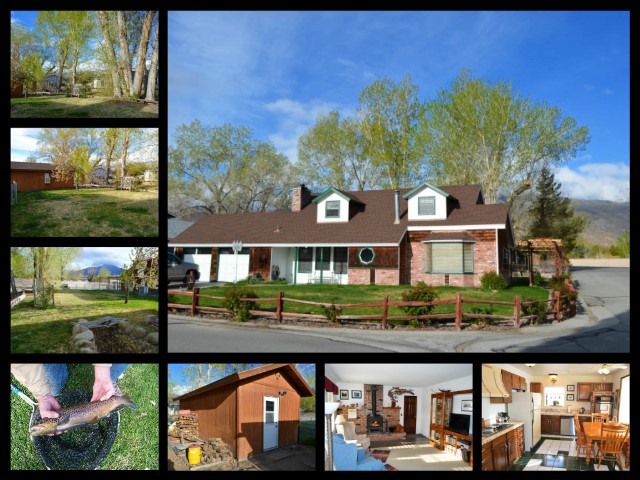 Property Details
Similar Properties
This well kept 2 story home offers 4 bedrooms, 2.5 bathrooms, bonus room, and attached 2 car garage. The 2 bedrooms upstairs offer an abundant amount of storage space, or could make the perfect children hideout/club room. The kitchen features a 5 burner stove top, double ovens, dishwasher, wood burning stove and much more. The large open living room offers an additional wood burning stove and large front windows.
This property is located on a corner lot of 0.21 acres with a workshop located in the backyard. Both the front and backyard is fully landscaped with automatic sprinklers. There is a meandering creek in the backyard that offers beauty as well as an exclusive prime fishing location. The current owners have caught trout up to 5 lbs from their own backyard! Enjoy the views of both the Sierra Nevada Mountains and the White Mountains from the patio, which is shaded by grape vines in the summer months.
Nestled up next to the beautiful High Sierra is the small town of Big Pine. This quaint little town is an older community with a 15 minute commute to Bishop. This also means that it is 15 minutes from the nearest Hospital and Main grocery store. Big Pine has its own market, restaurants, and recreational shopping. This town is quite popular for those who may work in Independence. If you're a hiker you will love the fact that Big Pine has some great hiking trail heads just west of down town. This mountain town also has a great animal shelter that so kindly lends out their dogs for the afternoon to take to the park and play in the sun or maybe a nice walk through the area. For outdoor enthusiasts and star gazers, Big Pine has a lot to offer!
Single Family Properties for Sale in Bishop CA – Randi Pritchard, Broker
Eastern Sierra Realty is dedicated to serving the local communities of Bishop, Big Pine, Independence, Chalfant Valley, Aspendell, Swall Meadows, Paradise, and Inyo and Mono Counties. Feel free to call with any Real Estate Needs at (760) 873-4161